Hello.
While trying to load images via \includegraphics, I noticed that none of the images will load, not even those in the template I am required to use.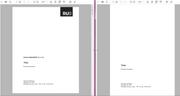 On the left is what it should look like, on the right is what I get when I typeset the template (pdfLaTeX+MakeIndex+BibTeX).
Why are all of the images just blank? Thanks in advance.
Titlepage:
Main file:
Log: